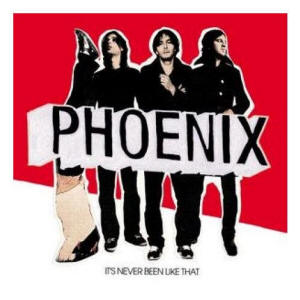 Wow.
Again.
Wow.
You know, this city was recently voted the greatest city in the United States to see live music. No joke. We won. On a weekly basis, I'll catch some of the best live acts in the country from a wide range of styles-- brass, R&B, zydeco, good ole' indie. Hell I'll go into Snug Harbor and catch some of the best jazz acts in the country on a Tuesday night. This city is known for its live music. We pride ourselves on it. We love it.
And then wouldn't you know these skinny dudes from Paris come over and just completely blow everyone's mind. I don't know whether to be humbled, surprised, awe-struck... I just don't know.
For those of you who didn't make it to last night's sold out show at Tipitina's, let's just say Phoenix has set the bar for the rest of 2009. All comers are welcome.
The show kicked off with local favorites MyNameIsJohnMichael, after the scheduled opener--Chairlift--dropped out. I only know Chairlift from the iPod commercial, so as far as I'm concerned, good riddance. It was awesome getting to see MNIJM come out and just kill it, especially in front of a large crowd of people who weren't all that familiar with them. I had two separate people come up to me and ask if I knew anything about the band, and how excited they were to find out they were from New Orleans.
Then, well, Phoenix. Their new album,
Wolfgang Amadeus Phoenix
, has been one of my top albums of the past year, and hearing the songs come to life live was a revelation. Highlights were the band's drummer (I'd never really noticed the drumming on the album, but seeing them live made me realize that the dude is the absolute backbone of this band), the lead singer's very-good-but-still-somewhat-broken English ("I, just want to thank you. Last time, there, were like a hundred...Now... look!"), them holding out on first single "1901" until the encore (leading to the following exchange with my buddy: "I don't think they're coming out for an encore." "They haven't played "1901" yet, dude. They have to. There'll be a riot if they don't." "Oh, God. You're right. This is going to be awesome.")
Arctic Monkeys tonight, Andrew Bird Saturday night, Blitzen Trapper Sunday night. I think I'm getting sick from lack of sleep. Whatever.